Puppy Training,
Adult Dog Training,
Dog Behavior Modification
This is your complete resource for your dogs training information. Learn about puppy training, dog obedience training, dog behavior modification, dog care and canine problem solving, clicker training, dog agility training, grooming and dog care, canine communication and dog training and safety tips.
Are you looking to work with a professional dog trainer in a live class environment?
In an ongoing effort to provide you with the best information about our live dog training services, we've published our complete Puppy Training, Dog Training Course Catalog on-line. Where are the Group Dog Training Classes located? And what is the Group Dog Training Class Schedule.

We offer a complete range of dog training services ranging from behavior modification, puppy training through advanced dog obedience, agility and K-9 services as well as different levels of tracking and area search to train your detection or Search and Rescue dog.
These dog training classes are offered for everyone from children through adults. You can work in small Group Dog Training Classes or in Private In-Home Lessons. You can find detailed information here: Puppy Training, Dog Training Course Catalog.

Wouldn't it be nice if you can send your dog to Dog Training Boarding School and pick him up responding to a higher level of obedience? Yes, we offer a Board and Train program for all levels of obedience from Basic Dog Obedience through Advanced Dog Obedience.
Our goal in puppy training is off-leash obedience without the use of food in our formal dog training program. At DogSkool we're helping you with your dog training.
Animal Communication Institute DogSkool Quick News: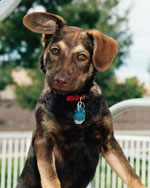 In our effort to provide you with everything you need for training your dog, resolve your dog problem behaviors and understand dog training in the comfort of your own home we have expanded our on-line dog training resource.
Our Dog Handler Center section briefs you on the scientific principles surrounding dog training and dog learning. How your dog learns and stores this learned information in their brain is all covered in this in depth study of dog training theory.
Here Is An Overview Of Our Dog Training Guides
Live Course Catalog
This is the listing of all of our live dog training classes. They include our Group Dog Training Classes, our Private In-Home Dog Training Classes and our Board and Train Dog Training programs.
Live Dog Class Schedule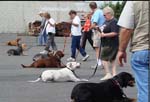 This is our Live Group Dog Training Schedule of when our group classes meet and where they meet. In the San Jose, CA area there are 5 locations offering group dog training from puppy training all the way up to advanced dog obedience. All group classes meet on Saturdays and are on-going which means you can start as early as this week. See the FAQ's to see how this works.
Dog Handler Center
Our Dog Handler Center aka Student Center hosts our Dog Training Theory Manual and our FREE eMail Dog Training Class lessons. Here you can learn all the theory behind modern dog training. Also how dogs learn and remember the information we are teaching them. Very important information for the understanding of what we are doing to train our dogs.

On-Line Dog Training
This is your complete resource for your dog training program. You can learn all the skills and information needed to pick the right puppy for your family, raise your new puppy to become a happy member of your family, solve most any problem that your new dog or puppy might have and our ever growing list of obedience commands to teach your dog or puppy how to behave in our complex world. You can also learn about clicker training, dog agility training and get reviews of the best dog training books and dog training videos on nearly every dog activity.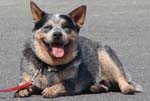 These dog training sections gives you the solutions to nearly everything your need to raise a happy dog from puppy raising and puppy training to solving problems like dog biting, chewing, digging, jumping, stealing, barking, and housebreaking. We also have covered all your obedience commands including; heel, sit, down, stand, sit-stay, down-stay, stand-stay, come, finish, sit out of motion, down out of motion, stand out of motion, down on a recall, down out of play, right turn, right turn about, left turn, left turn about, turn against your dog, in place turns, send out, drop it, speak, quiet and more!
The Free Email Dog Training Course
This is your obedience dog training program presented in a well planned step by step 14 week dog training course. This course has been offered online since 1997 and has had 1000's of students from all over the world. We are pleased to offer this service to all of you, giving you a NO cost structured dog training class.

Dog School Blog
Keeping you posted on the happenings in the world of DogSkool.
Canine Arcade Games
You are online and may need a break. Our arcade center provides some fun games to play, as well as the old standard games.
Dog Photo Gallery
Show us your dog and we'll show you ours.
K9 Media Center
Press and News releases as well as brochures and information in a quick easy access format.
Puppy Friends Center
We share great sites we use and our friends that use our site.

Pet Store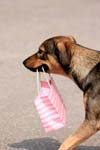 What dog training center would be complete without a Pet Store. Here we offer the best products that you will need in the raising and training of your dog.
Do You Have Any Other Questions On Your Dogs Training or Behavior Modification?
Contact Us by either calling us at +1 (408) 733-2829 or send us a message using our handy contact form.
Have We Missed Anything About Your Dogs Behavior Modification?
Let us know and we will try to get it to you and post it to our growing dog training resource.
Teaching People About Dogs and Puppies Is Our Passion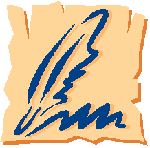 When you like what you do, you have a good job; but when everything you do is the focus of every waking moment and you love it, then you have a great job.
So put us to the test, if you find anything difficult to understand, let us know so we can clarify it and make it easier for you and everyone else.
Questions, comments or just an interesting story about your dog?
Write us, we want to know.